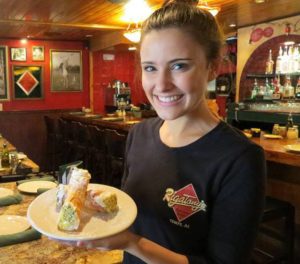 RigaTony's is a locally owned and well established restaurant company founded in 1989. You will find that we have qualities of a professional well-run national chain restaurant and the family atmosphere of an independently owned restaurant. Many of our staff have worked for us for five or ten years or even more. If you enjoy being part of a busy, dynamic high profile company with excellent training programs, and earning some of the highest pay rates in our industry this might be your company!
We are always on the lookout for qualified applicants but especially individuals with great personalities, a good work ethic and a passion for creating and serving quality. If this describes where you want to work and who you are – then we encourage you to get in here and apply! Click here to access the application. Here are some pointers to follow when applying:
Fill out application completely and neatly. Include copies of any other supporting materials including resumes, letters of recommendations, awards… anything you have accomplished that will demonstrate your qualifications to us. You can use the link provided for the application or you can come in fill it out in person. If you're picking up an application – please do so in the afternoon and avoid peak meal times.
You can drop off an application any time that we are open for business, however the best time is between 2:00 and 4:00 in the afternoon when our Managers have the time to at least meet you when you submit your application.
When you drop off application, if possible, be prepared to wait to be interviewed or at least met by a Manager.
Thank you for your interest!